Once upon a time,

I had a car (a Ford Escort Xr3i) that failed its MOT test because of rusty sills. As the car was not particularly old this, needless to say, annoyed me. I decided that the best approach to the problem would be to purchase a car with a strong chassis and fibre-glass body.

Easier said than done!

I started to make a shortlist. TVR, Lotus, Reliant... um... Of course, the Reliant I had in mind was the Scimitar, with its 3 litre V6 engine, not the Robin.

Then I remembered that at the 1972 Earls Court Motor Show I had sat in a Gilbern Invader. Ah yes! I remembered the leather, the wood dashboard full of instruments and switches, the 3 litre V6 engine, fibreglass body...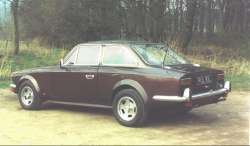 So I did a little research and soon came up with an address for the Gilbern Owners Club. After a delay of about 12 months, during which time I was driving yet another Ford Escort XR3i, I saw a Mk3 Invader for sale and subsequently purchased it.

I didn't have it too long before a few minor problems started. Driving along a country lane in the Lake District all the gauges on the dashboard stopped working! Fortunately the solution was easy - clean the poor contacts on one of the fuses in the electrical system.

Given that I was now using the car as everyday transport and that it was approaching 25 years old it was inevitable that a slightly more serious problem would eventually rear its head. This turned out to be a leaking clutch slave cylinder. Fortunately most of the mechanical parts on Gilbern cars are easy to come by, being Ford parts from cars of the same era, and the Gilbern Owners Club spare parts service was excellent. It wasn't long before I had the clutch slave cylinder replaced.

Now the inevitable happened. The master cylinder started to leak. This turned out to be the cause of my selling the car. As it was approaching winter I used my 'other' car, this time a Vauxhall Astra, and put the Gilbern in the garage.

With no power or lighting in the garage, and my lack of time and engineering skills, time seemed to pass rather quickly and it was spring of the following year. I kept putting off the work and the car just sat there getting dustier. At least the bodywork wasn't rusting, even if the chromed bumpers were.

I came to the conclusion that it would be better to sell the car than leave it for another twelve months.

Do I regret any of it ? No, I enjoyed owning and driving it.
Would I buy another ? Yes, but only if I could afford to use it as a 2nd car, not my main transport, and then only if I had the time, facilities and inclination to keep it in good condition.

When I wrote this, I was the owner of a rather boring, but very reliable, Honda Civic.
After abour 5 years good service I sold it on Ebay. At 96,000 miles there was still a lot of life left in it. I now have a Vokswagen Golf.